A few interesting things to cover today, considering it has been a while since my last post.
The NBA Finals are set and take a guess who it features? Celtics vs Lakers is about the best match-up the NBA could hope for (still waiting for LeBron vs. Kobe final). The C's have 17 NBA titles, the La

kers with 15 championships. So it's no shocker that these two will face off again. What does the series have in store? Well these games should be ultra-competitive. The LakeShow and C's squared off twice this season each team winning on the other's court and each victory came by one point! So expect this series to go seven games. The Celtics have more experience than the Lakers (but with experience comes age). Boston also has arguably the hottest player right now in Rajon Rondo. He has elevated his game since the Cleveland series and has been unstoppable since. Now Kobe has also been on fire, with a slew of 30+ point games, but Rondo has been playing great basketball on both ends of the court. My prediction here is that the rest and experience that the Celtics have, and given their ability to steal a game or two away from home this playoffs give them the edge over Los Angles. Take Boston in 7.
On to Paris, where there will be an unfamiliar feeling heading into the French Open semifinals. For the first time in 23 consecutive Grand Slam events, Roger Federer will not make the semifinals. Federer's streak began in 2004 when he made the Wimbledon semis and lasted all the way until this year's Aussie Open. How impressive was his streak? 2nd place on the consecutive semis list is Ivan Lendl, with 10! So Federer will be unable to defend his first and only French Open title this year. His loss also will bump him out of the world's number one spot assuming Rafael Nadal wins the event (and let's be honest, who else dominat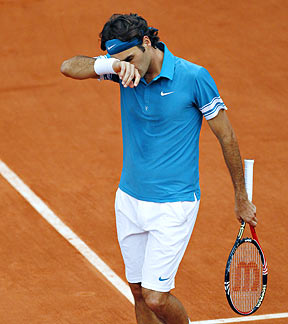 es on clay like Rafa?).
But with the Federer loss adds a new name to tennis' top echelon, Robin Soderling. Soderling unseated Roger yesterday with shear power. He hit the ball harder than Roger and forced Roger into key unforced errors. The Swede won the match the best way you can against Federer, win break points. Roger isn't going to make a whole lot of errors, so when he does it is crucial to take advantage and Soderling did. Was Soderling's win a surprise? Not really. Here is why: Soderling beat Nadal on the clay surface last year in the Open. Soderling has a nack for playing well on clay and beating the big boys. We know Robin can compete. Also, Soderling was due for a win against Roger. Before yesterday's match, the two faced each other 12 times with Roger winning all 12 matches. Soderling didn't even push Roger to extra sets until their match-up last year at the U.S. Open. So look for Soderling to become a factor in future Grand Slam events.